Girls Monday Night Football team win the league!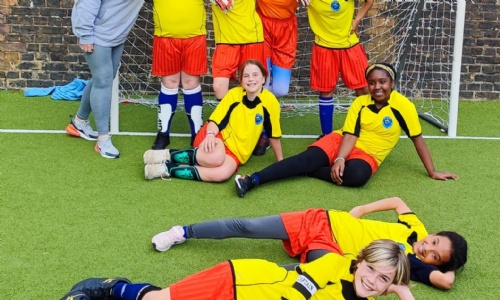 Girls Monday Night Football League came to an end this Monday in spectacular fashion, with Kilmorie winning 8-0, and therefore winning the league.
Kilmorie was top of the table with one game to go and Fairlawn were right behind them with 2 games to play. This meant that Kilmorie had to at least draw, if not win, their game to secure their league title. The girls went out and as usual started with our motto "start hard and fast".
Within a few seconds of the game we were 1-0 up and the girls went on a scoring frenzy. This win means that the Kilmorie girls football team have won the league and proudly brought home the winning trophy!!
Big congratulations to each and every player in the girls football team. You have grown as a team together and have shown such maturity, passion, enthusiasm, and collaboration to get to the top. You deserve to be there and should be so proud of yourselves. I am so proud of you! Every contribution no matter how big or small, has been an important part, and we couldn't have down it without you!

Jane - Coach
If you see the girls around school please congratulate them and ask about the amazing league journey they have had.
Also don't forget to check our PE board for the league table!