Year 5/6 Girls Football Tournament at St Dunstan's Jubilee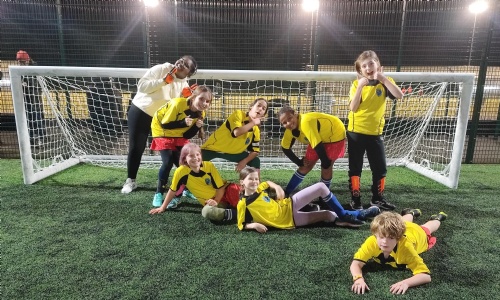 Eight of our year 5/6 girls participated in a tournament run by St Dunstan's. The tournament celebrated the Woman's World Cup 2023, the England Lionesses reaching the Final. And the growth of girls football within the borough.
From the first, to the last game, the girls were amazing and played some beautiful football. Each game all the girls battled from start to finish and there were some tricky games. The girls took it in their stride and never gave up.
There were some wonderful goals, our spectators, the events organiser and Jane (coach) were highly entertained.
A massive well done to Frida In year 5 for winning Player of the tournament - she really did deserve it with all the assists, the runs, the beautiful passes. Frida really did have an amazing night of football.
The tournament came down to goal difference, as Kilmorie and St Dunstans battled it out for their place in the final. Unfortunately Kilmorie lost on 1 goal difference. Although we were disappointed not to be in the final, the girls were very proud.
Well done girls I am so proud of you.

Jane - Coach
The tournament was a good lesson for us, because we learned that it wasn't all about winning, but about having fun. I think we did amazingly, we carried on until the end, we never gave up.

Etta Mansoor-French - Team Captain