Year 5 & 6 intra sports football tournament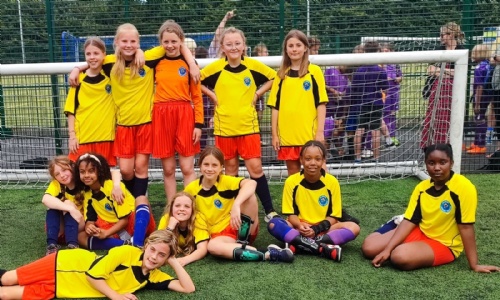 22 of our year 5-6 boys and girls played in our last intra sports football tournament of this academic year and for some of them their last tournament in their Kilmorie journey.
It was a great afternoon of fun, energetic, fast pace football had by all. We had 3 teams in total: 1 boys and 2 girls. All children that participated showed great resilience, some of the games were tough, however that never stopped them, they just kept on playing!
There were some great goals, fancy footwork and great sportsmanship towards others.
There were some very close games, it ended with our boys team & girls (team B), coming home with 2nd (all receiving silver medals). Shout out to Roisin who couldn't make it due to a broken finger, you were missed.
Thank yous from Jane - Coach:
A big thank you to Ekene (a Kilmorie dad) for all his help with the boys team, I couldn't have done it without you, and to all the other parents for your help and support, not just on Monday but throughout the year!
A massive well done and thank you to the year 6 girls football team, I have really seen you all grow in confidence and skill, and it has been such a pleasure to be your coach. I know that you girls are going to go on to be great sports leaders in the future. I am really going to miss you all!
A massive thank you to the year 6 boys football team, who have given us beautiful football and again grown in confidence and skill. You guys have made yourselves, me and Kilmorie proud. I have loved being your coach and I know you will also be great in all that you go on to do. I will miss you too!