Phonics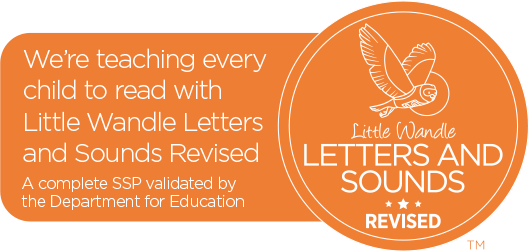 At Kilmorie we use the 'Little Wandle Letters and Sounds' phonics programme, starting in Reception and continuing throughout Year 1 and in the Autumn term of Year 2. The Reception year begins by learning the single letter sounds and then learning to blend these sounds into words (e.g. 's-a-t' becomes sat). Children are then taught to segment sounds and blend them together into words in order that they can read and write. Children also learn to read and write 'tricky' words, which have an unusual spelling and cannot be sounded out fully. In Year 1 children learn the alternative spellings for different sounds. Phonics is taught every day, with the children learning a new sound and revising sounds already taught. Some children will receive additional phonics support, in small groups with their peers, if we feel that this will be of benefit.
Every six weeks the class teachers assess how many sounds each child can recognise and read fluently and based on this knowledge they are put into appropriate reading groups which will best support their skill and confidence levels.
At the end of Year 1, children are assessed through the national phonics screening check. For any children who need it, phonics sessions continue in Year 2, and beyond if necessary, until they are fluent readers. Once children can read fluently, reading then progresses from learning to read, to reading to learn.
The school uses the 'Big Cat for Little Wandle' decodable reading books. Children read these books with an adult in school, developing their ability to decode, read with expression and understand the book. These happen in small groups (5-7 children) three times a week. They then take this book home to read aloud and 'show off' their skills to an adult. Children should be able to read this book fluently and independently, only stopping to sound-out a couple of words. Alongside this they take home a sharing book to enjoy with an adult. We believe that children need exposure to a variety of reading material to appeal to their different interests.
At the early stages of reading development, the children initially use books without text and progress to books that are directly linked to the phonics sounds that they are learning. Children progress through the reading scheme at their own pace; they do not need to read a certain number of books in each stage before moving on to the next level. Alongside 'decoding' the words (using their phonics to read the words), we stress the importance of chatting and asking questions about what they are reading to ensure the children understand what they have read. We ask that parents and anyone hearing children read always talk about the book with them and praise them for their specific reading skills e.g. "well done for recognising that tricky word", "I loved the way you sounded out that word because you were unsure" etc.
Please click here for further parent information and videos, to enable you to support your child with phonics.
You can also find more information on this presentation we used at our Little Wandle Phonics and Reading parent workshop in October.
If you need further support or information please email Naomi or Philippa.